Forum: General Discussion


About VirtualDJ and DJing in general

---
If you need extended support, contact our Support Team.
Forum Guidelines  (*) The moderators hold the rights to move or modify posts in order to keep the discussions clear or to facilitate the search.
Topic: Black Friday deals??

Ok yeah I know I'm early but I really wanna get a couple more 60" tvs and no I don't need any of that 4K crap either, lmao!!

I'm just looking for slim 60" tvs with a small bezel (wide bezels look chunky to me).

So anybody know of any deals on tvs now or upcoming??

Thanks for the time and info!
---
Inviato Wed 25 Oct 17 @ 2:53 am

Ok so maybe the "Black Friday" title is throwing people off, lol!

This doesn't have to be about Black Friday but just deals in general.
---
Inviato Wed 25 Oct 17 @ 12:13 pm

Soooooo anyone know of any deals for TVs??
---
Inviato Tue 07 Nov 17 @ 1:25 am

sneak previews and leaked sales are already happening. and there were some recent overseas sales in china I believe.
but as for current deals I dunno.
---
Inviato Tue 07 Nov 17 @ 1:40 am

Insurgent I have 4 60" tv. I buy the cheap dumb tv's and ALWAYS from Walmart, and I never have them shipped to the house. I always go and pick them up. I have had a couple die in the past, and walmart has been excellent at replacing them. I have 2 rca's now, both under 500.00, and 2 sanyo's, both under 500.00. These four tv's have been goin strong for 4 years. Just my 2 cents.
---
Inviato Tue 07 Nov 17 @ 3:34 pm

Awesome!!

I'm definitely on the hunt and anything anyone shares is greatly appreciated.
---
Inviato Tue 07 Nov 17 @ 5:27 pm

are ya SURE ya don't want 4k?....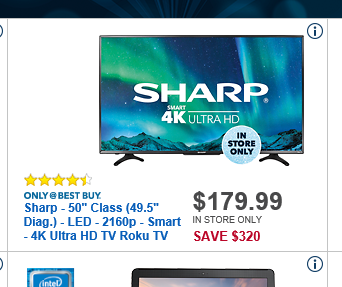 ---
Inviato Fri 10 Nov 17 @ 10:05 pm

Ok ok you've twisted my arm!! Looks like my ass will be inline at Best Buy..........
---
Inviato Sat 11 Nov 17 @ 12:34 am

I was going to play on one of your words, but this is not the climate. Let me just say you should probably bring some help, if you are going to try for 2 of these, and be careful. I will actually be packing my bags to go on a cruise the next day, so good luck.
---
Inviato Sun 12 Nov 17 @ 8:08 am