Forum: VirtualDJ Technical Support


For reporting any bug, questions or comment related to the latest version of VirtualDJ
---
(NOTE: VirtualDJ continuously updated, so many older topic on this forum are most probably already fixed in the current build)

If you need extended support, contact our Support Team.
Forum Guidelines  (*) The moderators hold the rights to move or modify posts in order to keep the discussions clear or to facilitate the search.

Is there a way to find Duplicate Tracks in the database?
---
Inviato Wed 13 Jun 18 @ 2:59 pm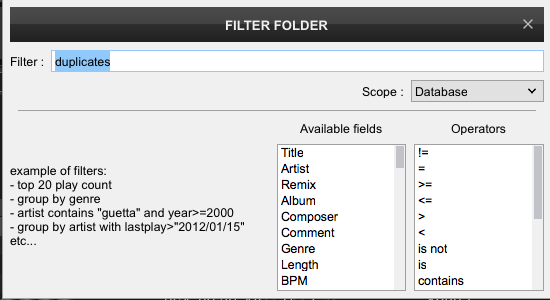 ---
Inviato Wed 13 Jun 18 @ 3:16 pm

Awesome thanks !
---
Inviato Wed 13 Jun 18 @ 4:39 pm

I have been using this to find dups and doing some cleaning.

Just a heads up, even if you have a duplicate file (as in FILENAME) but have different COVER ARTs or other stuff in the TAGs (forgot some, but I think different BPM's or anything in the TAGS), it will not show as a duplicate file.

Until now, I occasionally find a duplicate song manually (when I search for it). So while Gigging, if I see a DUP, I put it aside and check it later on.
---
Inviato Wed 13 Jun 18 @ 5:28 pm

@elenesski:
np ;o)


---
Inviato Thu 14 Jun 18 @ 8:52 am

I am literally just 12 hours into testing out VDJ as a potential replacement for Serato. I am curious, is there any clever workarounds in filtering that could work as a broader duplicate check. like the title is the same first n characters?
---
Inviato Wed 14 Nov 18 @ 3:21 pm

Just put * in the browser search to show all files then sort by title for example
---
Inviato Wed 14 Nov 18 @ 4:21 pm

MediaMonkey
---
Inviato Thu 15 Nov 18 @ 5:09 am

You can create a filter folder with action:

title starts with "abc"

It's not quite convenient if you want to check many files, because you have to alter the filter folder query each time.
But for smaller workloads it'll be just fine.
---
Inviato Thu 15 Nov 18 @ 12:34 pm