Forum: Italian Forum

Il Forum Ufficiale Italiano dedicato a VirtualDJ
---
Il Forum Ufficiale Italiano dedicato a VirtualDJ e all'hardware compatibile. - Ai nuovi utenti è consigliata la lettura molto accurata delle regole del forum ed è gradita una piccola presentazione. Fate Post costruttivi e lasciate ai moderatori l'ingrato compito di far rispettare un minimo d'ordine. In caso di problemi o errori di protezione contattate l'assistenza tecnica italiana.
Ricordiamo la possibilità di acquistare la licenza PRO anche solo per un Mese, per testare completamente le infinite possibilità di mixaggio audio & video CLICCANDO QUI Ricordiamo ai "no license user" che non è permesso lo scambio di indirizzi Email, Facebook, Msn, Skype, MySpace e ogni altro tipo di contatto personale.
Alcuni topic specifici con spiegazioni tecniche sono riservati esclusivamente agli utenti con una regolare licenza PRO.
Topic: Voxoa S60 e simili (Topic Generale)
This topic is old and might contain outdated or incorrect information.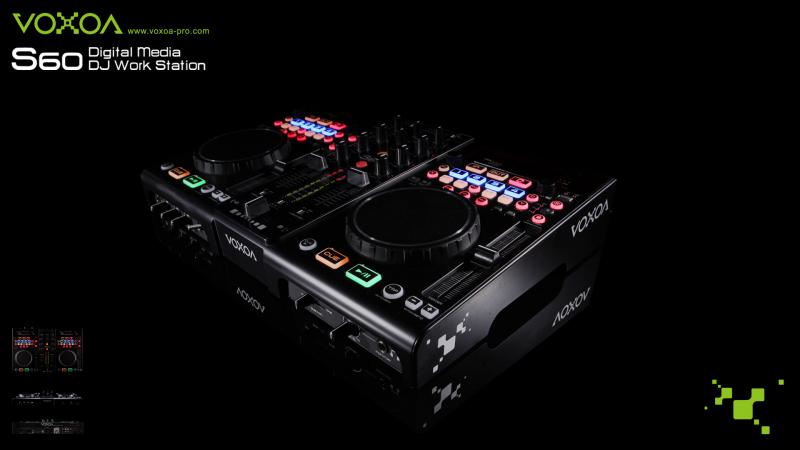 USB Player
- 2 USB sockets for external USB device support
- Two USB player share one external USB Device
- All control elements are MIDI compatible
- Automatic and manual tap beat counter
- Sleep function for reducing power consumption
- Optional rack-mount adaptor


Playback
- Instant start via 1 bit technology (8 fold)
- Instant playback from cue point
- Fader start to control playback on fader move
- Relay play function
- Single and Continuous play modes
- Cue Play function can back to cue and play instantly

Data search
- Track and folder searching system
- Advanced cueing with track searching by frame
- DATABASE BUILDER software for fast searching massive USB device
- Onboard file and folder browsing
- ID3 TAG support


Cue/Loop  
- Auto cue function cues track to start of music
- Seamless loop function / reloop function
- 4 independent hot cues/loops banks with real-time adjustment
- Every track can save 4 hot cues and unlimited memos for USB drive


Pitch Control
- Adjustable pitch range ±6%, ±10%, ±16% and -100%
- High quality 100 mm long pitch fader
- Micro pitch with a resolution up to 0.02%
- Pitch bend control button
- Pitch bend up to - 100% and +16%
- Key Lock allow a track's tempo to be changed without affecting the original key of the track
- Pitch ON/OFF button


Jog Wheel 
- Touch sensitive jog wheel for scratching
- Multifunctional jog wheel for search, pitch bend and effects adjustment
- 3 modes for jog wheel: Normal CDJ, Scratch, Cue Scratch
- A Cue Scratch mode – touch wheel return-to-cue function
- Jog wheel control for pitch bending and frame searching


DSP Digital Effects  
- 4 superb beat synchronized DSP digital effects
- Build-in Effects: ECHO, FLANGER, FILTER and Skid
- Effect parameters Time and Depth adjustable via Jog Wheel


Display
- Large extra bright dot-matrix VFD display for all functions
- Display playing address
- Display ELAPSED/REMAIN
- Displays text for ID3 tags and folder names for easy navigation
- Text display for navigating folders on MP3 CDs and USB flash drives


Mixer 
- Input: Line x 2 (RCA), Phono x 2 (RCA), MIC x 2 (XLR/1/4 Inch Combo x 1,6.3mm x1),USB x2
- Output: Balanced (XLR) x 1, Unbalanced (RCA) x1, Unbalanced Booth (RCA) x1, USB MIDI x 1
- 3 USB jacks, 2 for USB playback, one for PC MIDI connection
- Three-band EQ with Full output kill for each channel
- 2 MIC with level control, tone adjust and talkover
- Effect auto beat sync function
- Effect X & Y parameter adjustable
- Replaceable Crossfader with 3 curve switch
- Crossfader with fader start function
- Fader Start compatible with VOXOA CD/MP3 Player
- Headphone with level control and cue mixing
- Subwoofer Output with Frequency Adjust
- Booth out with level adjust
- Dual 10 LED monitor display (selectable PFL or Master output)


Quì il collegamento al sito ufficiale: http://www.voxoa-pro.com/products.php?lang=en&kind=13&pid=43&kind2=1


---
Inviato Mon 22 Aug 11 @ 6:02 pm

Come detto prima e' la stessa console solo che con marchi diversi
citronic mp10
akiyama syncron
american audio versadeck
voxoa s60
anche se la trovo carina non la prenderei
---
Inviato Mon 22 Aug 11 @ 6:26 pm

dipende tutto dal prezzo
---
Inviato Mon 22 Aug 11 @ 6:29 pm

Si aggirano tutte le marche sullo stesso prezzo tranne' che la versadeck
€399 versadeck
€549 akiyama syncron
€ 573 citronic mpx10
$ 587 VOXOA s60
---
Inviato Mon 22 Aug 11 @ 6:43 pm

Posso parlare della Versadeck di AA ma penso che gli altri siano fratelli gemelli:

E' grande pressapoco come il Denon DN-MC6000 ma è un due canali, buona fattezza, non troppo plasticoso, le jog mi sono sembrate molto buone, è midi e non HID quindi quando collegato al PC i display non indicano nulla, per il resto facile da usare e mappare a proprio piacimento; usato con due casse amplificate da 350W RMS la potenza in uscita è stata più che sufficente (al max inviava dei picchi a 3/4 del volume della cassa), la qualità audio mi sembra nella norma, da segnalare (forse per via della decodifica audio) che quando si leggo di file dalle USB Flash il suono è molto ricco di bassi.

Buona (almeno per me) la disponibilità di un doppio ingresso microfonico, pecca invece l'impossibilità di poterlo effettare (nemmeno con un effetto esterno).
---
Inviato Wed 24 Aug 11 @ 6:37 am
(Old topics and forums are automatically closed)