Forum: General Discussion


Discussions about VirtualDJ, and about DJing in general

---
Forum Guidelines
If you need extended support, contact our Support Team.
(*) The moderators hold the rights to move or modify posts in order to keep the discussions clear or to facilitate the search.
Topic: TOGGLE BETWEEN STEREO AND MONO

Is there any way to implement a way to toggle between stereo and mono in a future software build.For example I have a DDJ SX controller and like many other controllers the mixer section doesn't have a mono/stereo select switch.I've had occasions where I would have liked to run my system in mono ,because of speaker placement in the rooms or halls at certain functions.
---
Inviato Tue 04 Jun 13 @ 10:35 pm

You can use the Advanced Sound Setup in Mono Mode and have e.g.
Master .. left ... DDJ SX ASIO ... Out 1
Master .. Right.. DDJ SX ASIO .. Out 1
but this has to be used prior start mixing. You can even save that Sound Setup and have different ones available using the Profile Switcher .. http://www.virtualdj.com/addons/12300/SBDJ_Profile_Switcher.html


---
Inviato Tue 04 Jun 13 @ 10:59 pm

Thanks for the help
---
Inviato Wed 05 Jun 13 @ 9:17 am

I tried to download the file and noticed it is an executable. I am running this software on a mac. Can you create a mac compatible version of this file? Thanks.
---
Inviato Sun 12 Jan 14 @ 4:17 am

Any ideas for the DDJ-SZ???
---
Inviato Sun 18 Jun 17 @ 2:07 am

I use SBDJs effect as master effect for this
Like this:




I'm not so familiar with the SZ. It may bypass a lot of stuff and do it itself, so I'm not sure if it works with the that unit
---
Inviato Sun 18 Jun 17 @ 7:15 am

vlnjacki wrote :
Or you use a VST Plugin Effekt for this Stereo / Mono :
http://www.alexhilton.net/A1AUDIO/index.php/downloads
Greatings,Dirk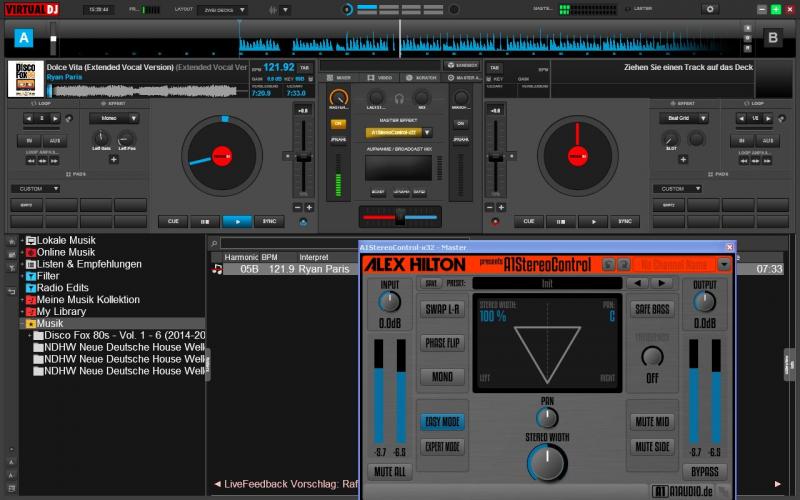 when there is a hardware mixer like on the ddj-sz plugins on the master will not work since there is no master :-)

but this may work on the SX not sure.


---
Inviato Sun 18 Jun 17 @ 1:23 pm

You can activate the VST Plugin Effects on the VDJ-Decks too.
hope that goes than by a hardware Mixer.

Have not test it so with my AA VMS2 Midicontroller but with
2x External SK with the VDJ 7.4.7 Pro Basic or VDJ 8 Pro Legacy that goes too.

greatings,Dirk
---
Inviato Sun 18 Jun 17 @ 2:27 pm

vlnjacki wrote :

You can activate the VST Plugin Effects on the VDJ-Decks too.



Yes, it works when you use the effect in one of the effect slots on both decks
Just remember to disable "resetFXOnLoad" in the settings

Like this

---
Inviato Mon 19 Jun 17 @ 8:27 am