Forum: Addons
Topic: VirtualDJ 8@ReLoaded
This is the default version 8 skin ReLoaded with carefully selected Tools and improvements based on user feedback.
This skin can also used by support for quickly improving or optimizing VirtualDJ 8 settings.

- Deck Tools button, adds tools for fixing Beatgrid, shift cues with one click right from the decks, enable Repeat mode on deck and more.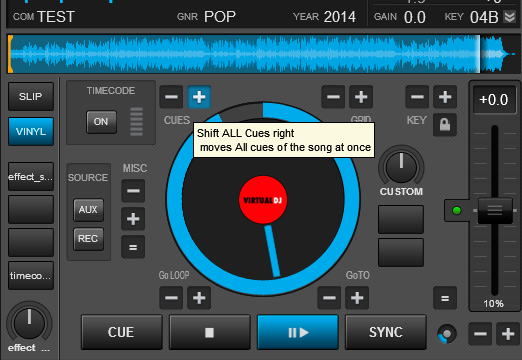 - Features a unique "One Click Scratch Optimizer" (SCR) button in the scratch panel.
It acts like a settings preset that optimizes several program options at once for vinyl mode and scratch performance.
Click on the same button again to revert to the default settings or compare.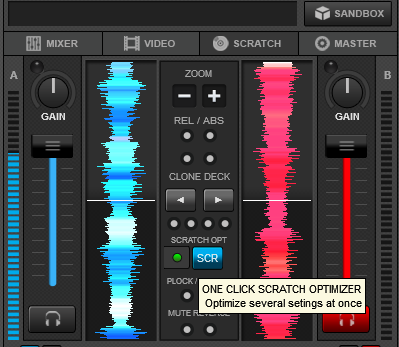 - Threshold for limiter. Press the "DIM" button in the Master panel to prevent limiter overload.
- Unique "MATERDECK" button as a global setting in the master panel, allow to toggle-set the recommended 'Auto mode' (when it is on) or switch to manual.
It is the easier way to fix the 'Sync not working' issue on several controllers in case the masterdeck switches to manual mode on load or by user mistake (like when pressing shift+sync).
Just check the status of this led, if this led is not on, click to enable 'auto'.
- First seen in a skin is a "Sampler Group Mixer" located in the Master panel. A powerful but hidden new feature in VirtualDJ 8.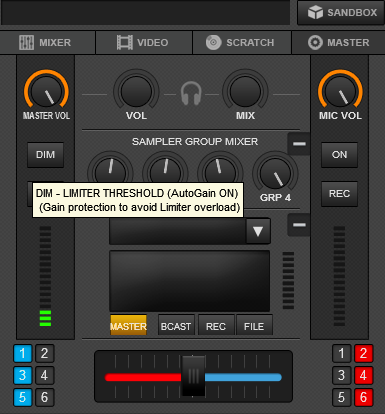 - The speed of the waveforms is optimized for Scratch dj's (similar to vinyl rotation speed at 33 1/3)

- Visibility improvements : A bigger Clock, More tag infos in Deck displays.
- Timecode Relative / Absolute / Smart and turntable Brake (1200 Mk2 emulation) buttons in the scratch panel.
- Separate limiter leds for channels and the Master to indicate exactly which channel / deck is overloaded.
- More custom buttons and knobs.
- One click "PANIC" Buttons to reset all active Effects at once on decks or master, or Stop ALL Samples at once.

(*) 2/6 Decks skin only.


Download here

---
Inviato Sun 20 Jul 14 @ 9:25 am
HISTORY :

Update 1.2
- Improved Layout Menu to select working decks, load / unload decks at once, and other tools.
- Several small improvements.

Sept. 2014
Updated to version 2.0
- Now the 'ONE SCRATCH OPTIMIZED' button (SCR) also includes optimized settings for Timecode users.
Just like before, the settings are applied all at once as a preset and remain saved even if you change skin.
Click on the same button again to revert to the default settings or even do quick A-B tests and compare.
(*) These optimized settings tested officially and approved by talented scratch dj's at the BPM 2014.

- The scratch panel is now the default panel when on skin loading.
- Horizontal Scratch waves (2 active decks) is now the default waveform layout.
- Several small improvements.

Update 2.1
- Changed BPM display on decks to show one digit after the dot (Best for Timecode Vinyl users : more stable Bpm display).
- Small changes in the recommended scratch settings (SCRATCH OPTIMIZER button)
---
Inviato Thu 18 Sep 14 @ 5:06 pm
very nice guys!..but dont I see this forum category (Addon) normally?
edit: nevermind,I see it.this replaced the plugin topics?..
---
Inviato Tue 23 Sep 14 @ 6:44 pm