Forum: Addons
Discussion about Midi Fighter 3D


v1.2

updated for the latest firmware update (mf utility)
added a 3rd combo
added light effects to combo activation
other slight tweaks

more to come in future releases
---------------------------------------------------------------------
v1.1

added to 3rd row 1,2,3,3,4 COMBO (from left to right)
added mapping for side buttons
front and back tilt jog control
bank 3 effect button renamed
-note- using Midi Fighter Utility, set join tilts Y to OFF for jog scratch effect

*more updates to come*

---------------------------------------------------------------------

v1.0

4 bank control of 2 decks
- bank 1 & 2 = left deck (1) & right deck (2)
-row 1 = loop control
-row 2 = play control w/led support
-row 3 = effects w/ 4 button down COMBO
-row 4 = hot cues

-bank 3 & 4= left & right decks (both)
-row 1 & 2 = left deck
-row 3 & 4 = right deck

tilting the device controls the Filter

use the Midi Fighter Utility to customize controller default LEDs and settings as follows:
-midi channel : 3
-midi velocity : 127
-software mode : traktor
-combos : enabled
-bank buttons : 4 banks enabled
-animations
button pitch : enabled
edge tilt : enabled
-motion
rotation : relative
tilt directions : left, front, right, back
join tilt cc's : on X, off Y
tilt dead zone : 10
tilt range : 35
tilt sensitivity : 85

Midi Fighter 3D Utility can be downloaded here http://www.midifighter.com/ under 3D support

Additional Docs w/pictures of LED color mapping

-secretseven


[Team] Added image from Addon.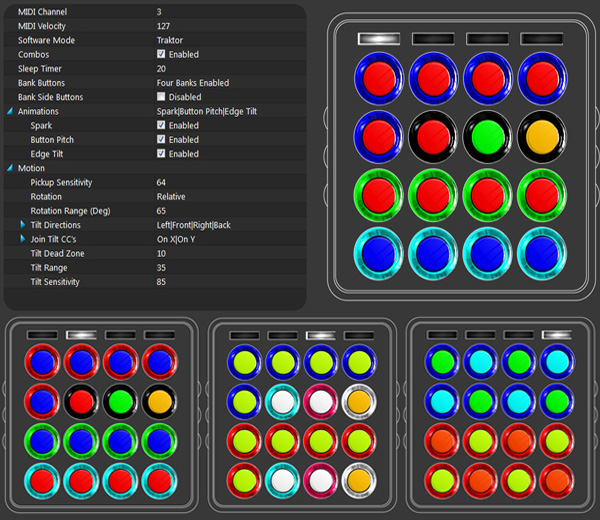 ---
Inviato Fri 08 Aug 14 @ 5:17 pm
Is this mapping for VDJ pro 7 or 8
---
Inviato Wed 06 May 15 @ 8:09 pm
Hi cant download the midi fighter 3d mapping is there another link to download. I need it for Mac thanks

---
Inviato Mon 10 Aug 15 @ 4:43 am
On my Mac Pro VDJ doesn't recognize the midi fighter 3 d.... it is normal? it works perfectly with my PC. Best regards
---
Inviato Thu 30 Aug 18 @ 10:01 pm
:: Mappings don't appear to be working for VDJ (v. 8.4-64 b5874) ::

I've downloaded DJ Tech Tools' MIDI Fighter Utility for Windows, as well as the v.1.2 mappings for my MIDI Fighter 3D. I configured MIDI Fighter Utility as instructed, and checked that I have the latest firmware for my MF3D (07 June 2018), and still don't see any mappings in VDJ > Settings > Mappings. The mapping file doesn't appear with any buttons mapped to functions, and the buttons themselves do not appear under custom mapping options in order to assign them.

Anything I'm missing to get things setup under the latest version of VDJ?
---
Inviato Thu 09 Jul 20 @ 9:05 am
Did you add the mapper files correctly to the corresponding folders in VirtualDJ home directory?
---
Inviato Thu 09 Jul 20 @ 3:34 pm
Can't get it work for me either on Mac. Where do I find the file to add to Midi Fighter Utility - it doesn't show up in extenstions..
---
Inviato Thu 02 Jun 22 @ 12:16 am
---
Inviato Thu 02 Jun 22 @ 8:28 am
Still not working for me, even with MidiFighter file imported. No Midifighter device is detected when I plug it in.
---
Inviato Thu 02 Jun 22 @ 3:16 pm
Device was recently supported. You need the Early Access Build (enable EarlyAccessUpdate from VirtualDJ Settings->OPTIONS) or wait for a few days for the current Early Access to become Public
---
Inviato Fri 03 Jun 22 @ 4:43 am