Forum: VirtualDJ Skins


About skins, skin development and communicate with other skin developers.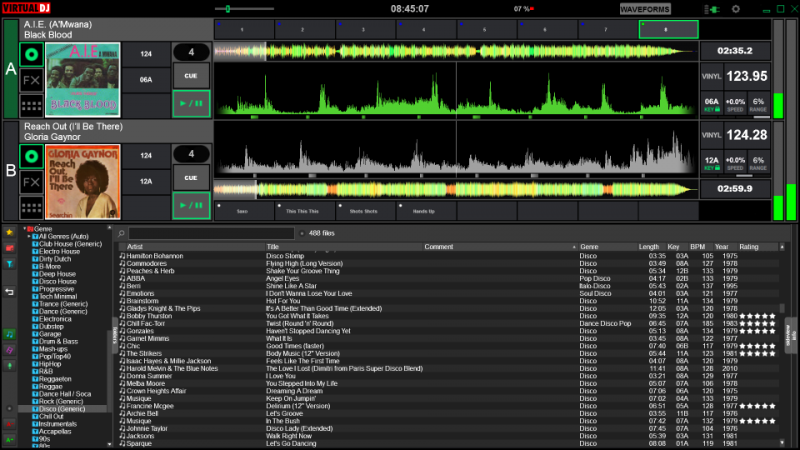 This skin is designed to be used with a controller, so things on screen are mainly for display / information.

The left side of each deck can be switched between showing track info, effects info and pad controls.

Resolution is laptop sized (1366 x 768).

Available soon.
---
Inviato Sat 02 Sep 17 @ 8:04 am

Me: Cool! Must download and try out right now!



groovindj wrote :

Available soon.


Me: Doh!

---
Inviato Sat 02 Sep 17 @ 12:01 pm

It's uploaded, and approval has already been confirmed. Just waiting for it to be added to the download page.
---
Inviato Sat 02 Sep 17 @ 12:12 pm

I thought all ver 7 skins were 1920x1080 natively?
---
Inviato Sat 02 Sep 17 @ 2:11 pm

You mean V8 surely?

Well that was the concept, yes. But in reality it's not so easy. So many different screen sizes and resolutions. One size does not fit all.

V8 skins don't have to be 1920 x 1080, and not all authors make them so.

My laptop's 1366 x 768 so that was my starting point. It was coded and loaded (for checking) on this tower PC though, on a 32" HD screen.
---
Inviato Sat 02 Sep 17 @ 2:21 pm

Sorry, yeah meant V8.

Ah, ok. Thanks for the info.

I think the full HD thing was based on V8 supporting SVG but that never happened.

Nice skin BTW :)
---
Inviato Sat 02 Sep 17 @ 5:21 pm

Did Atomix ever actually say it would? I know that many users have requested it for a LOOOOOOOOOONG time, and even staff have said they start skins in vector then convert - but I can't find a statement from Atomix anywhere. Maybe someone in a video?

VDJ 8 can draw straight lines, squares & rectangles internally - but I've been told it creates a "heavy" skin, and without curves it's not usable to create a whole skin anyway.
---
Inviato Sat 02 Sep 17 @ 7:47 pm

It was in the original spec for the V8 release but got left behind.

Will see if I can find it.
---
Inviato Sat 02 Sep 17 @ 8:06 pm

this looks great! can you please make it 3 decks?
---
Inviato Sun 29 Oct 17 @ 11:52 pm

very nice .. hoping this will work well on my tablet
---
Inviato Mon 30 Oct 17 @ 12:04 am

Seriously need more 2880 x 1800 resolution skins
---
Inviato Thu 02 Nov 17 @ 8:22 pm

There is no specific resolution for skins any more.

Generally they are made at a default resolution of 1920x1080 and can be resized up without issue. *apparently*
---
Inviato Thu 02 Nov 17 @ 8:30 pm

You're talking about a Retina display presumably? From what I read, the OS treats it as a 1440 x 900 display, because if you actually could/did run it at 2880 x 1800 everything would be crazy small and you wouldn't be able to read text etc. so my skin's resolution (designed for the average 15" laptop) isn't that far removed.
---
Inviato Thu 02 Nov 17 @ 8:32 pm

When graphics like solid (or even gradient) boxes, circles etc get up-resized, the loss in quality is small, unless a skin at 1280x gets resized to 4000x and more. But if texts -
as part of graphics - get resized, its where you mostly notice the difference.

@groovin, i would recommend to avoid adding texts in the png , such as SPEED, KEY, RANGE, Shift Right, Loop Out etc and instead use <textzone> or <text> inside the buttons.
You can use dy="" to position text vertically inside a button (in case you dont want that vertically aligned) and also <icon> if you want to separate the icons inside a button and use it in other elements too.
---
Inviato Thu 02 Nov 17 @ 8:41 pm

I know what you mean djdad. A lot of the skin was taken directly from screen grabs, which is why some of the text is on the bitmap.

Maybe I will get around to changing it one day.


---
Inviato Thu 02 Nov 17 @ 9:04 pm