Forum: Addons
Discussion about Detune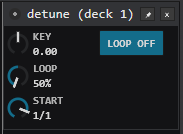 A little bit keyloop, a little bit shrink loop. This will call a loop and whatever the start loop size it will change the key and loop size every time the initial loop size is passed.
Dial 3 lets you pick if the fx calls a loop on start or waits [WAIT] for you to manually call a loop.
The "loop off" button lets you choose if turning the fx off also turns the loop off.
Can be used as a subtle mixing tool or as a "let's get weird" kind of thing.


x64 only.
x86 users, we'll have to some agreement.
Mac users who can xcode, give me a message, I'll share the sauce code.
---
Inviato Mon 24 Feb 20 @ 1:50 pm
This is a fun effect!

I've made a quick video about how I've been playing with using it

---
Inviato Fri 06 Mar 20 @ 12:23 am