Hardware Manuals
MIXER CONTROLS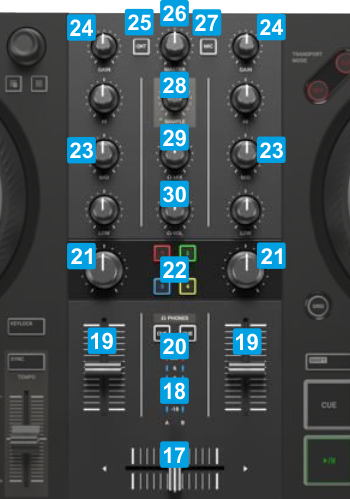 KEY
ACTION
17

CROSSFADER
Blends audio between the left and right assigned decks
18

VU METERS
The Left/Right series of Leds indicate the pre-fader output level of Left/Right Deck.
19

VOLUME
Adjust the Output Volume of the Left/Right Deck.
20

CUE (PFL)
Select Left/Right Deck to send to the Headphones Channel for pre-listening.
21

MIXER FX PARAM
Adjust the 1st (Strength)) Parameter of the selected Color FX. When at middle position, no Effect is applied.
22

MIXER FX SELECT (1-4)
Select and enable/disable a Mixer (Color) Effect.
Button 1 : Filter, Button 2 - Echo, Button 3 : Noise, Button 4 : Flanger.
23

3 BAND EQ
Adjust the Low (Bass), Mid and High (Treble) Equalizer frequencies of the Left/Right Deck
24

GAIN
Adjust the pre-fader output level of the Left/Right Deck
25

QUANT
Enable/disable Quantize mode on both Left and Right Decks. When enabled, hotcues, play, loop etc will be snapped (quantized) to 1 Beat or other value as defined in the VirtualDJ globalQuantize setting
26

MASTER
Adjust the level of the Master Output (connection at the rear panel).
Hardware operation (output volume is controlled by the hardware), but position will be visible on VirtualDJ GUI (fake mode)
27

MIC
Turn Microphone input On/Off (connection at the rear panel). The volume of the Microphone Input is controlled from the rear panel
28

SAMPLER VOL
Adjust the Output Master Volume of the VirtualDJ Sampler
29

CUE MIX
Blends Master Output signal and audio signals from PFLed Decks to the Headphones Output. When at minimum position, only Decks that have the PFL/CUE enabled, will be heard to the Headphones. When at maximum position, only the Master Output will be heard in Headphones
30

CUE VOL
Adjust the Output Volume of the Headphones Channel (connection at the front panel).
Hardware Operation (Headphones Volume is controlled from the Hardware), but its position and value will be also shown at the VirtualDJ GUI (fake mode)
Pads