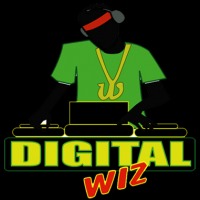 Digital Wiz (The Remix Master) – as the name suggests, is at the top of the music game – especially where live Video Mixing is concerned.

He currently plays for J Wray and Nephew Ltd, a Residential Vj/Dj for Coalition Entertainment Production and Stress Free Productions as well as a Freelancer and site Dj for djnassie.com. Negril TV airs his video mixing program "Madd Jugglin" channel 391 Flow, all found on the Island of Jamaica.

Daniel Wisdom aka Wizzy, Dreadlox(Vj name: Digital Wiz , VJ Wiz or Vj Dread, Jamaican born and...