Hardware Manuals
DECK CONTROLS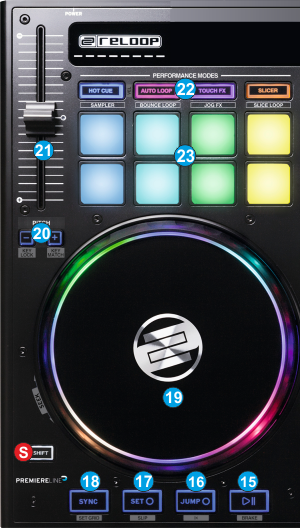 PLAY/PAUSE. Plays / Pauses the track.
Hold SHIFT down and then press this button to apply a brake and gradually stop the track.


CUE JUMP. When the Deck is paused, you can set a temporary Cue Point by moving the Platter to place the Audio Pointer at the desired location and then pressing the Cue Button. During playback, you can press the Cue Button to return the track to this Cue Point and continue to play from that position.
If the Deck is paused, you can press and hold the Cue Button to play the track from the Temporary Cue Point. Releasing the Cue Button will return the track to the temporary Cue Point and pause it.
To continue playback without returning to the Temporary Cue Point, press and hold the Cue Button, then press and hold the Play Button (15) and then release both buttons.

Hold SHIFT down and then press this button to stop the track at its beginning


SET CUE. This button has the same functionality as the JUMP CUE (16) with the difference that the deck will stop to the Cue point if the deck is playing.

Hold SHIFT down and then press this button to enable/disable Slip Mode. When Slip mode is enabled several functions (such as HotCues, Loops, scratching etc.) will apply temporary and the track will continue from the point it would have been if these functions have never applied.


SYNC. Press this button to automatically match the corresponding Deck's tempo with the opposite Deck's tempo and phase.
Hold SHIFT down and then tap this button (at least 4 times) to manually re-calculate the BPM of the track (if set incorrectly)


JOGWHEEL. Touch sensitive platter for scratching (SCRATCH mode), bending (CD Mode) or Seek mode. In Scratch mode, use the jogwheel to scratch and the outer ring to bend.
Toggle between Scratch and CD mode using the VINYL buttons on the default GUI of VirtualDJ.
Hold SHIFT down and then use the Jogwheel to fast seek through the track.

The jogwheel offers multi-color leds, which will show the playing marker, the song progress bar (in SEEK mode), and other colored combinations depending on the applied effect, loop, loop roll or Filter.


PITCH BEND Use these buttons temporary slow-down/speed up the tempo of the track. Once the buttons are released the track will continue to play at the tempo designated by the pitch fader.
Hold SHIFT down and then use the Minus button to enable/disable Keylock (also known as Master Tempo) and the Plus button to select the next range for the Pitch.


PITCH. Controls the track's playback tempo. The red led indicates that the pitch fader of the unit is on zero (center) position


PAD MODES. Use these buttons to select the mode of the Performance Pads (see PADS)


PADS. RGB Velocity Pads with functionality depending on the selected mode (see PADS).

Pads