Hardware Manuals
Controlli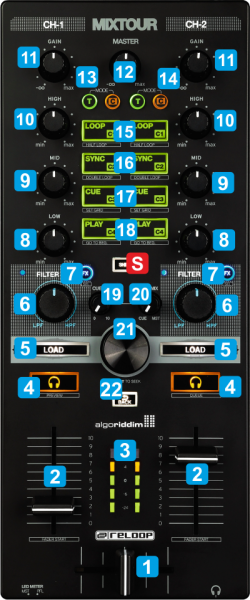 KEY
ACTION
SHIFT (SECONDARY) ACTION
S

SHIFT
Press this button down to access secondary actions as described in the SHIFT ACTION column
1

CROSSFADER
Blends left-right assigned audio signals
2

VOLUME FADER
Adjust Deck Output Volume
Stops the track at the CUE position when reached minimum position. Plays the track from the CUE when moved to any other position. (FADER START/STOP)
3

VU METERS
Front Switch to Left : Indicate Master Output Level
Front Switch to Right : Indicate Deck pre-fader Output level
4

PFL
Sends Deck audio signal to Headphones Channel
Start/Stop Prelisten Player
5

LOAD
Load selected track to deck
Left LOAD : cycle through Sideview windows
Right LOAD : cycle through center Mixer panels
6

FILTER KNOB
Filter mode : Adjust High-Low Pass Filter (middle position Off)
FX mode: Adjust High-Low Pass Filter & 1st Effect Parameter at the same time (middle position Filter Off and Effect parameter at 0%)
Adjust 2nd Effect Parameter (if available)
7

FILTER/FX MODE
Toggle between Filter (Led Off) and Filter/FX modes (Led On)
Select next available Effect
8

EQ LOW
Adjust Low (Bass) frequencies - Equalizer
9

EQ MID
Adjust Mid (Middle) frequencies - Equalizer
10

EQ HIGH
Adjust High (Treble) frequencies - Equalizer
11

GAIN
Adjust pre-fader Output level (Gain)
12

MASTER VOLUME
Adjust Volume of Master Output
13

(T) TRANSPORT MODE
Selects Transport mode
Smart Play
14

(C) CUES MODE
Cycles though HotCue and Sampler mode
HotCue mode : Smart Cue
Sampler mode : Next Sampler Bank
15

LOOP
Transport mode : Enable/disable the selected Loop
HotCue mode : Sets or triggers HotCue 1
Sampler mode : Triggers Sample 1*
Transport mode : Halves the size of the Loop
HotCue mode : Deletes HotCue 1
Sampler mode : Stops Sample 1*
16

SYNC
Transport mode : Syncs tempo and phase with opposite deck
HotCue mode : Sets or triggers HotCue 2
Sampler mode : Triggers Sample 2*
Transport mode : Double the size of the Loop
HotCue mode : Deletes HotCue 2
Sampler mode : Stops Sample 2*
17

CUE
Transport mode : Sets, triggers and previews the temporary CUE
HotCue mode : Sets or triggers HotCue 3
Sampler mode : Triggers Sample 3*
Transport mode : Manual beat Tap
HotCue mode : Deletes HotCue 3
Sampler mode : Stops Sample 3*
18

PLAY
Transport mode : Play/pauses track
HotCue mode : Sets or triggers HotCue 4
Sampler mode : Triggers Sample 4*
Jumps to the beginning of the track
HotCue mode : Deletes HotCue 4
Sampler mode : Stops Sample 4*
19

HEADPHONES VOL
Adjust the Output volume of the Headphones channel
20

HEADPHONES CUE/MIX
Blends audio signal from Headphones (minimum position) and Master Mix (maximum position)
21

BROWSE
Scrolls through files or folders
If T mode button is pressed, seeks through the track
If track plays on the Prelisten Player, seeks through the track
BROWSE PUSH
Sets focus to the Songs list
Adds selected track to Automix list
22

BACK
Sets focus to Folders window. Collapses/expands sub-folders if focus is to Folders.
Sets focus to Sideview
(*) If the selected Sampler Bank has less than 5 Samples, both sides will trigger the same Samples. If the selected bank has more than 4 Samples, the left buttons will trigger samples 1 to 4 and the right buttons will trigger samples 5 to 8.
---

Hardware Integration Department
2016 - ATOMIX PRODUCTIONS
Reproduction of this manual in full or in part without written permission from Atomix Productions is prohibited.