Forum: General Discussion


About VirtualDJ and DJing in general

---
If you need extended support, contact our Support Team.
Forum Guidelines  (*) The moderators hold the rights to move or modify posts in order to keep the discussions clear or to facilitate the search.
Topic: Denon MC6000 MK2 experiences and tips?? - Page: 1

I looked and couldn't find a similar thread. I am about to pull the trigger on a new MC6000 MK2. I am a mobile (since 1987) and I like to use a rack to transport and protect my gear. This seems like the best option that is rack mountable. If anyone who has already gone this route would like to chime in, I would love to hear your experiences with the 6000 and any tips on setting it up. I read that the Denon ASIO driver was not recommended to go with waspi or something like that? I am more about the music than the tech so getting it up an running will be my biggest hurdle. I currently use a DP2 and a DDJ-S1 depending on my gig. I do beatmix and I would love to use the jog wheels.
---
Inviato Sun 25 Nov 18 @ 7:38 pm

nothing?
---
Inviato Mon 03 Dec 18 @ 1:06 pm

I have used two MC6000 mk1 for a long time, and they have been great!!
Have tried it both rackmount in a SKB case and in a smaller Magma case. Small and efficient piece of kit.
Never used the mk2 though, upgraded recently to MCX8000 and a Pioneer DDJ-1000, which I think the DDJ is my favourite at the moment.
I used the Denon ASIO without problems, but many people say they are unstable. For proactive reasons I used it in WASAPI mode with perfect performance the last year.

And, you will find NO issues what so ever setting the unit up. As soon as VDJ sense you have it connected, you just press Use MC6000 in audio config and everything pops up as it should.

---
Inviato Mon 03 Dec 18 @ 1:25 pm

It's really old technology these days, but neither Denon or anyone else have come out with a suitable rack mount solution to replace it. A few of them are also suffering with motherboard failure.

As stated above avoid the Denon ASIO drivers.
---
Inviato Mon 03 Dec 18 @ 3:02 pm

I too have the first MC6000 but not the MK2. I've been pretty happy with it, other than needing to disassemble it from time to time to clean the button contacts. It's coming up on eight years old. My previous laptop, an HP, worked great with the ASIO driver. My current laptop, a Lenovo, just won't work with it no matter how I tweak things, so I use WASAPI.

I wish I could help you with the MK2,
---
Inviato Mon 03 Dec 18 @ 3:25 pm

I have the MC 6000 MKII already for a couple of years. Actually it's just plug and play. VDJ recognizes the mixer and asks if I want to use that sound card. I have it in combination with a Macbook pro. Never had problems with it.
---
Inviato Tue 04 Dec 18 @ 5:37 pm

Hi there I had denon mc6000 mk1! it's good very stable, the controller sounded very clear and have very nice sound even sound card was only 16 bit, but switches are very cheap play/pause stay away from it, if you got money for better controller go for any Pioneer! they got very good switches they will not fail, they will last!


---
Inviato Tue 04 Dec 18 @ 11:59 pm

HOLA AMIGOS ,TENGO DENON 6000 MK2 Y LO USO DE LAS DOS FORMAS Y NUNCA TUVE PROBLEMA HACE 4 AÑOS LA USO Y PARA MI,UN CAÑO
NO ME FALLO NUNCA CON VIRUAL Y NO SE ME ROMPIO NINGUN POTENCIOMETRO, ESTA IGUAL QUE EL PRIMER DIA .
TAMBIEN TENGO PIONNER ,PERO LA MK2 ES TAN FACIL DE TRANSPORTAR QUE SIEMPRE USO ESA.TENGO PIONNER DDJ RX DE RESPALDO EN MI CASA
---
Inviato Wed 05 Dec 18 @ 12:52 am

Thanks for all the comments, I am excited to give it a shot. I should be up and running by New Years - HOPEFULLY
---
Inviato Wed 05 Dec 18 @ 3:33 pm

Personally I've never had a problem with the Denon Asio, however are there any advantages to using WASAPI?

And if you want to use the fab new VDJ Ableton Link feature - which I believe requires an ASIO driver when using Windows - would the 'ASIO4ALL' driver do if one was having problems with the Denon Asio driver?

Cheers
---
Inviato Thu 06 Dec 18 @ 10:25 am

I ve been using DENON MC6000 MkII since 2016. Without a doubt, it's the most "complete" Dj Controller on the market with such a small size. With other words, there hasn't been better controller in the market (till now) in these dimensions.

The only "problem", is with ASIO drivers, because of "roughly" programmed. Personally, after many settings – tests – results – discussions on Greek forum, I abolished them and I use only WASAPI (with satisfactory results).

ASIO4ALL aren't drivers! If anyone is interested in, he can search the forum for a post of PhantomDj and learns all the facts…
---
Inviato Thu 06 Dec 18 @ 11:18 am

Great INFO - THANKS SO MUCH!!

Ok, I have purchased and tinkered with the 6000 MK2 for a week. I love the controller, but still need a little help please . . . .

Before my questions, I am a mobile and still carry my gear in a SKB rack case with a slant top. Yes, I am old scholl for sure!! I hate that Denon put controls on the front. In a typical rack case that doesn't work out. I have fabricated two stilts that are about 1.5" that I use in the front hole. It works, but it makes the mixer flat instead of slanted toward me. Seems like this should have been a bigger consideration.

I just did the plug and play which is using the Denon drivers. What is waspi (instead of the ASIO)? and how do I switch? Should I switch?

As is, The major issue I am having is with there being a chirp sound randomly during the payback of the music. If I go back and play the same section again (where the chirp was), it doen't chirp again - very random??? I have also had 2 times where the sounds switches to sounding like it is analog or something - very raspy and distorted. These issues have to be settings I think - I have tons more computer (Ram, HD, etc) than is required so it definitely isn't the laptop. BTW I am using windows 10 on a brand new HP.

Is there somewhere that I can get the most usable settings. On the ones that affect my mix, I am cool to do, but sound setting, not so much??

This is my first upgrade in a few years. The old VDJ7 settings had lots of other settings with latency and a host of other things, are they not programmable anymore?

I have a few mapping questions: with the cue button and play/pause. When I hit the cue button, I would like it to go to the beginning of the track, next hit to the next cue, next to the next cue etc. None of the loaded settings seem to do this. Play / Pause, I would love for it to do just that play, pause and then play from where it is.

With the sync button. I used it all the time in 7 but this one is different. Once I hit it on the incoming track, then cross fade in, it wants to continue controlling the tempo. Where is the button on the mixer to slowly roll back to where the tempo should be in the center? It is the button where the center of the tempo button is on the screen in the software. I also noticed that the sync button continues to blink after the fade. I am guessing the shift should eliminate it, but I can't seem to find the right combination?? Really what I would like to do is what it did in 7. Sync just syncs that track to the other's and not hold or turn anything on or off?? Again guessing - that if I turn it off after the fade, it will roll back to the center?

Thanks so much for all the help!!
---
Inviato Wed 02 Jan 19 @ 5:46 pm

I have the mc6000mk2. It's a back up now but such a great unit. I had trouble with the denon driver too. The problem was incompatibility with usb 3.0. But also not using the denon driver works. If you're a mobile dj, i highly recommend it.
---
Inviato Wed 02 Jan 19 @ 6:36 pm

I have not self a Denon MC 6000 MK I/II

I have rent for two Partys from a Friend a Denon MC 6000 MK I , and they run good with VDJ 7.4.7 Pro Full.
Than in 2011 i buy a American Audio VMS2 (19 inch Rackmountet) Controller and this run from 2011-2016 on all the Mobile DJ Partys with no Promblem , today i use it for Home DJing.
Use too a Akai APC Mini for Sampler.
Next will test this Controller with Freestyler DMX Software.

I hope in the Future there comes some New 19' Rackmountet Controller on the Market.


---
Inviato Thu 03 Jan 19 @ 3:49 pm

I gave up waiting for this mythical 19" rack mount replacement controller and just made my own workstation with a keyboard stand and the MCX8000

Just as stable and far better looking.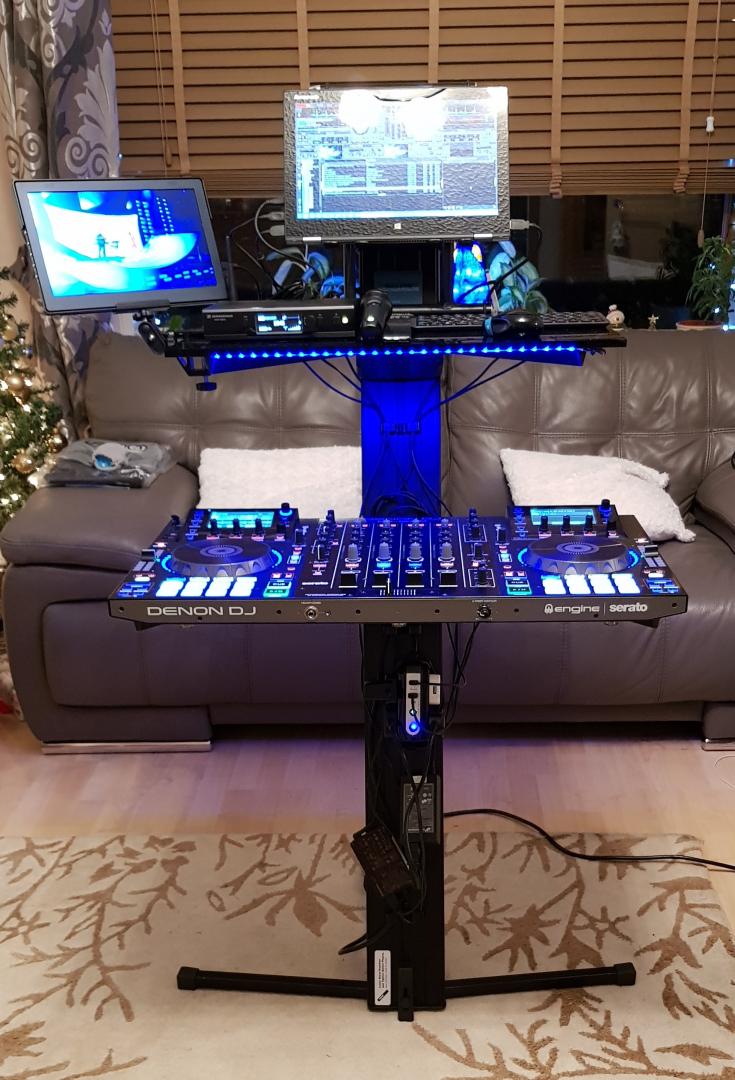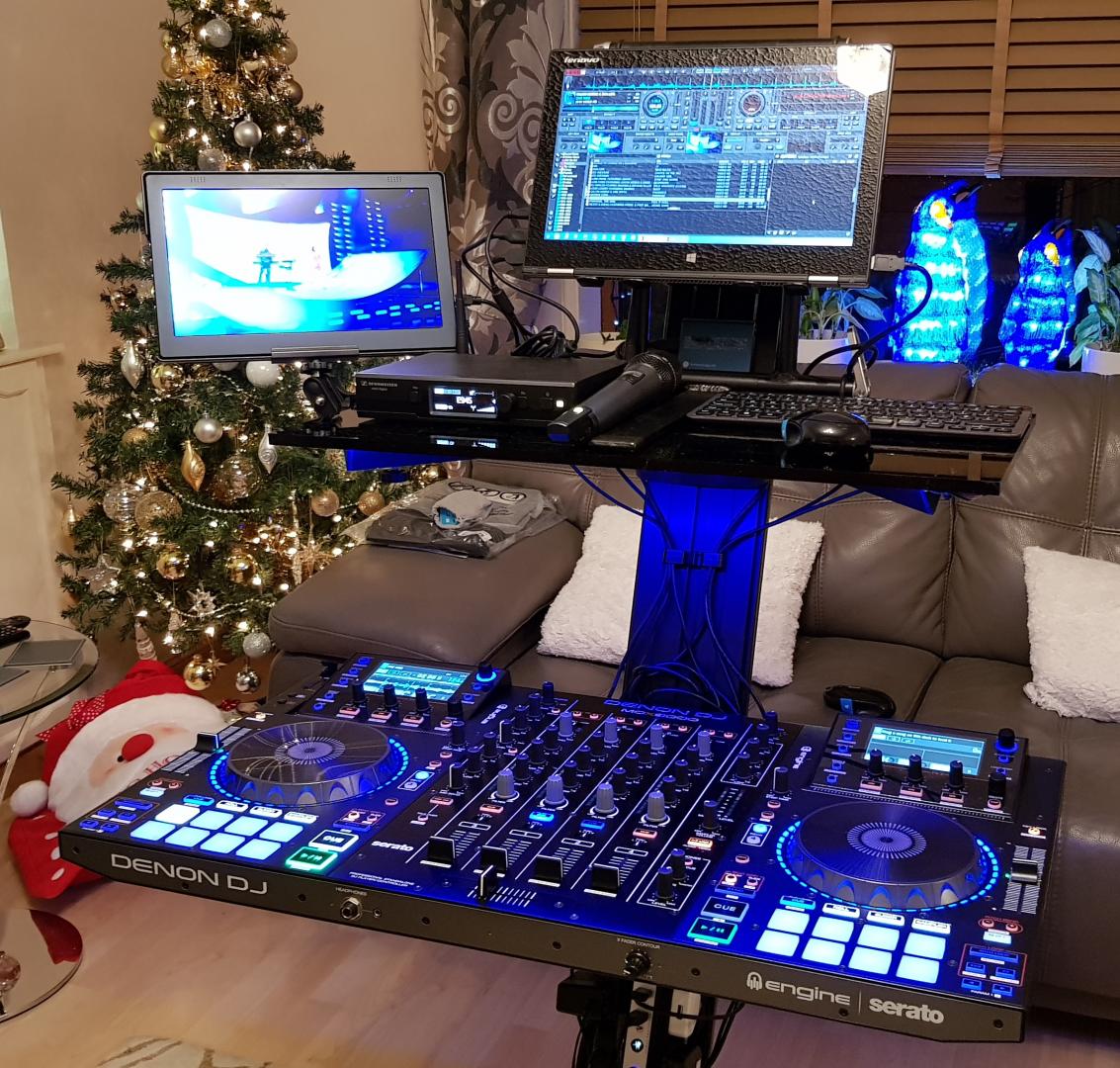 ---
Inviato Thu 03 Jan 19 @ 5:58 pm

Ooh, nice!

Yeah rack mount DJ gear is over. I've not used a 19" rack for years. Tabletop controllers, powered speakers - no need for racks.
---
Inviato Thu 03 Jan 19 @ 6:07 pm

Agreed. My lovely wife bought me a full Bose F1 system too so that should complement it nicely.

Just stopped doing pubs and clubs and moving back to mobiles so it's gonna be a bit quiet for a while.
---
Inviato Thu 03 Jan 19 @ 7:04 pm

Nice looking setup!!
Smart to use a keyboard stand. The 8000 really looks perfect in that setup.
My 8000 was replaced due to screen freezing.
I demand to get a new unit with 2.0 motherboard with the updated memories causing the freeze.
It is still in the box as I fell in love with my Pioneer DDJ-1000, but ready to go anytime.
Sorry for a little off topic.
---
Inviato Thu 03 Jan 19 @ 8:26 pm

what use switch settings and vdj sound setup (non time control) for the mk2 ans waspi?

thanks!
---
Inviato Fri 04 Jan 19 @ 3:42 am