Forum: Addons


Addons comments

blink elapsed time on start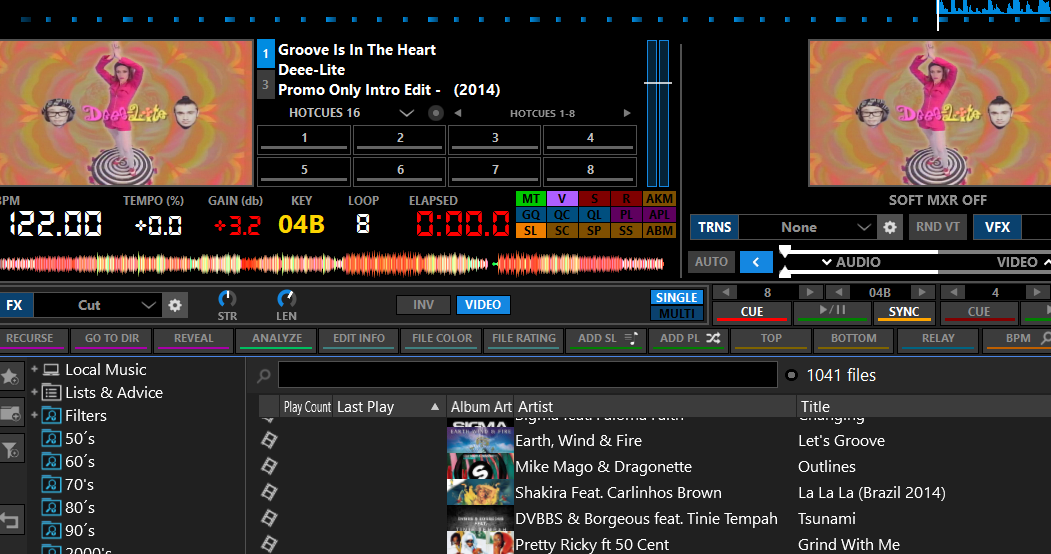 ---
Inviato Tue 03 Dec 19 @ 10:35 pm

This has been fixed already for next update (most likely next week )
---
Inviato Wed 04 Dec 19 @ 9:05 am

First, Thanks for this wonderful interface!!

I have a question, Is it possible to remove or disable individual buttons on the row of default buttons? The Randomize button has a been a problem for me as it is so close to the AutoMix Options button in the Auto Mix panel, and also very close to the Play button for Preview. I have twice accidentally clicked Randomize and completely messed up my Auto Mix.

I would love to be able to either remove the Randomize button or to disable it. If this is something that can not be done as a feature, then I am capable to fix it in the code if you point me in the right direction.

Please let me know.

Thank you again for this great interface.
---
Inviato Mon 30 Dec 19 @ 5:01 pm

Thank's PhantomDeejay for this great interface!
One request though: an indicator for the sandbox mode (on/off)
---
Inviato Sun 05 Jan 20 @ 1:36 pm

PhantomDeejay, thanks for a very smart and versatile skin that's loaded with many exciting variations. I enjoy the Vectro Classic view the best. I'm wondering if you could provide an inverted view to choose from in the Waveform Display in the near future? Thanks!
---
Inviato Fri 10 Jan 20 @ 11:31 pm

PhantomDeejay wrote :

This has been fixed already for next update (most likely next week )



The upgrade has taken a bit longer than expected but I know it will be worth it, any idea when it will be done?...best regard.!!!


---
Inviato Tue 18 Feb 20 @ 2:42 am

Hello,

the performance screen has a defect since the first version of the Vectro, the colors of the HotCue are flashing and only the other screen options happen on this screen, this does not happen, I use Mac Pro I7 with 2G video and Skin, Virtual Program and OS Catalina updated . I'm in Brazil and I'm using a translator, sorry for any typos.
---
Inviato Thu 16 Apr 20 @ 2:29 pm

Hi DJPhantom
Thanks for the great NEW skin*****
I'm working many years very good with your famous skin bevor: SILVER SLEEK 3. The BIG Feature, I'm using extremly is your lines with many CUSTOMER BUTTONS.

Now, I want change to your New Skin VECTRO but there I can't synchronisation with my old systematics .
New Vectro have in the lower line many manufactures fixed aktions, but I don't use these for my action systematic.

How I can map ALL my old/own individual Customer Buttons to the new Vectro lines in the same places I know it.

That's a feature, that is singulary of all other skins!
---
Inviato Sun 03 May 20 @ 4:47 pm

Hi George I hope you are well,
I too have been using silver sleek since Fruit got a real-life and have enjoyed your awesome Vectro skin since you released it.
Thank you for sharing your hard work with us.
As the previous post mentions, I too find the extra user buttons fantastic and would love to add another row(I work with a 27" screen) along with a small modification if possible; I would like to incorporate a similar feature as in the Orangejuice skin from Alex. I can't find it again but I know I saw it once, its a button or switch that drops a panel down with sampler and fx info from under the decks.
I'm sorry I can't explain it better right now, but the question is if you would even consider it?
Best Regards
Ray
---
Inviato Mon 04 May 20 @ 11:42 am

There is a line of custom buttons on Vectro as well.
In order to access it, click on SKIN OPTIONS button (the one that looks like a monitor with a cog, right on the left side of layout select drop menu)
Then Press BROWSER button ->CUSTOM BUTTONS BAR -> ON

Finally click the X button on skin options window to close it

---
Inviato Wed 06 May 20 @ 9:49 pm

Thanks PhantomDeejay for update 1.1. Great SandBox mode with progress indicator!
---
Inviato Thu 07 May 20 @ 1:23 pm

Thank you very much for your answer to the "Customer-Buttons".
Your verynice Skin Silversleek3 has 2 rows of 23 buttons each, 10 of which are preassigned - so they cannot be changed.
The remaining 36! are occupied individually and several times, because you can create a list.

In VECTRO there are ONLY 23 fields for me to individualize, i.e. there are 13 ! Buttons LESS .
Maybe your workflow with the offered rows is enough for you, otherwise you would have designed differently, but once again I ask for the possibility to map ALL my previous button assignments to VECTOR.
This was and is an important reason for choosing your SilverSleek3.
I would very much like to switch to Vector.
Maybe there is a solution after all.

With best wishes
djfidelius
---
Inviato Sun 10 May 20 @ 12:11 pm

Really liking the new skin! This will probably become my default go to skin! While playing around with it I saw where I can change from time elapsed to time remaining for the deck; but cannot seem to find it now to change it back. I would love to see both time elapsed and time remaining, is that possible or have an option to toggle by right clicking on whichever is showing now?

Thanks again for a very useful and nicely designed skin!
---
Inviato 2 days ago @ 6:17 pm

OPT: DECKS: INFOS: FIELDS:

Hello PhantomDeeJay

your new Skin VEKTRO is nice, I like it - I have already written that.

My long-time favourite skin "SilverSleek 3", also created by you, now has 5 fields/rows to configure in the player's INFO window.

VECTRO offers 3 lines at most.
Some combinations on ONE line are possible / are offered.

But the fields: e.g. USER1 USER2 are no longer recorded! - are therefore also no longer representable.

Since I have now made informative entries in the TAG window provided by the VirtualDJ program, it would be a 'blackout' to switch to VECTRO.
And alternatively to rewrite tens of thousands of entries is hardly to be expected.

What could be a sensible solution to catch VECTRO as MY NEW FAVORITES after all?

With best wishes
DJF*
---
Inviato yesterday @ 11:27 am

djfidelius wrote :

OPT: DECKS: INFOS: FIELDS:




Thanks, but I do not see that under options.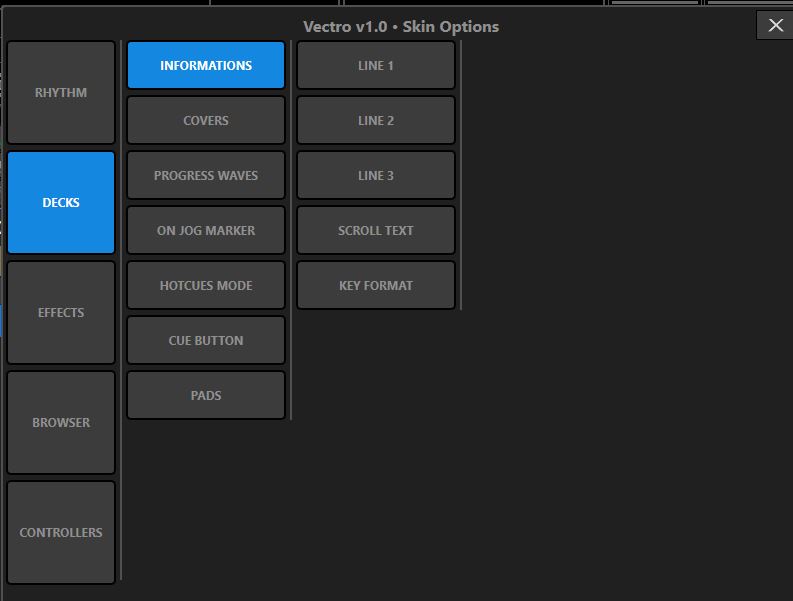 ---
Inviato yesterday @ 11:56 am

djfidelius wrote :


My long-time favourite skin "SilverSleek 3", also created by you, now has 5 fields/rows to configure in the player's INFO window.

VECTRO offers 3 lines at most.
Some combinations on ONE line are possible / are offered.

But the fields: e.g. USER1 USER2 are no longer recorded! - are therefore also no longer representable.

With best wishes
DJF*



Ok, I will add more options to include User1 and User2 fields.
However I won't add more info lines. They will remain 3 lines visible

---
Inviato 35 minutes ago

RCBAudio wrote :

Really liking the new skin! This will probably become my default go to skin! While playing around with it I saw where I can change from time elapsed to time remaining for the deck; but cannot seem to find it now to change it back. I would love to see both time elapsed and time remaining, is that possible or have an option to toggle by right clicking on whichever is showing now?

Thanks again for a very useful and nicely designed skin!



Clicking on "ELAPSED", "REMAIN" or "TOTAL" capture on screen should toggle the time on all layouts that have "single" time read-out (Controller, Controller+Video, & Classic)
For now I don't plan adding "dual" time display on these layouts
The rest layouts offer "dual" time:
2 Decks Slim
4 Decks Slim
DVS 2 Decks
DVS 4 Decks
2 Decks Stack
4 Decks Stack
Old School
Performance

---
Inviato 26 minutes ago