Forum: Wishes and new features


Features you would like to see in VirtualDJ
Topic: Shader - Wishes & new features - Page: 2

That would be awesome!
---
Inviato Wed 08 Jan 20 @ 2:07 pm

A big +1 to all of the above,
I seem to remember asking for a lot of these sort of things for Milkdrop a long long, maybe very long time ago. I'm interested to see where this now goes.

@loco
I can't seem to download that shader you mentioined above ;-(

Best Wishes to all, Happy New Year etc.
ray
---
Inviato Wed 08 Jan 20 @ 3:42 pm

Happy New Year to you too mucker, good to see you about.
That shader won't work with vdj, I don't think shaders that take a visual input currently work with vdj. My thought was perhaps vdj's deck or master video outputs could be fed in to such shaders as input, possibly add a separate "shader2" plugin select, so we can keep our "shapes & squiggles" shaders as is, and apply image manipulation/fx shader2 on top of that.
A new [open]source for video fx.
I'm not kidding myself, I guess it would be a few years [if ever] before we see something like it. But I'll just keep throwing ideas out, some of them get taken up :)
---
Inviato Wed 08 Jan 20 @ 4:13 pm

been thinking some more about this, and even reread the thread, it got way too complicated for me somewhere along the way ...

however, in the long term if shaders is the way to go, would it be possible to treat them just like samples, with banks and directory, menu, browser, etc.
just a simple man thinking simply
;-)
---
Inviato Tue 14 Jan 20 @ 1:07 pm

here are some rudimentary controls for sorting, auto change, transparency (when using as an effect not audio only visualisation) and sorting when you right click on them.

other controls and features for it have been asked for in the Wishes & New Features forum. but it's a case of waiting till they get around to it if they decide to.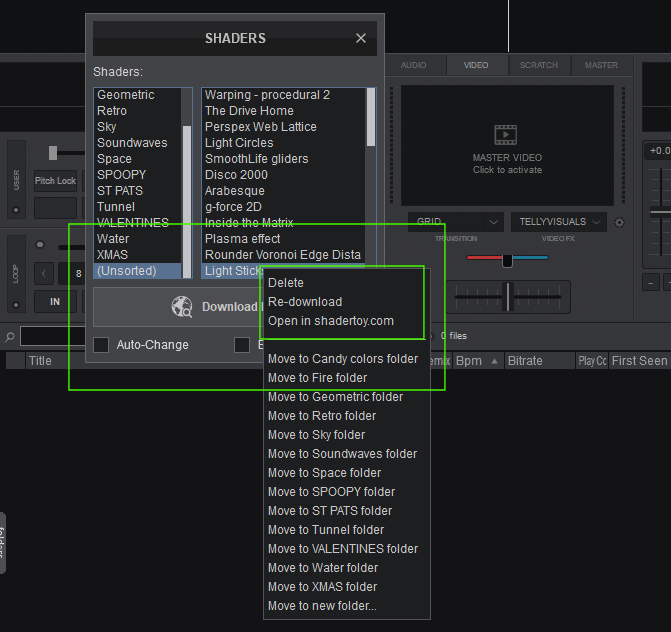 ---
Inviato Tue 14 Jan 20 @ 8:33 pm

Just I'm clear on this, the only way for us to get more shaders is to download them??

We can not share with other users via email or downloading a zip, correct??
---
Inviato Thu 16 Jan 20 @ 10:18 pm

Shaders are stored as .shader files in Documents\VirtualDJ\Plugins64\Visualisations and you can copy them to other computers.
The name of the file is the id from the shaderToy website, so it can be a bit tricky to know which one is which though.
Also if you copy them from mac to windows or from 32-bit to 64-bit, you'll still have to redownload them from inside virtualdj before they will work.
---
Inviato Thu 16 Jan 20 @ 10:24 pm

Ok cool and Thanks for the info!! Most appreciated.
---
Inviato Fri 17 Jan 20 @ 1:15 am

Shadertoy is very nice but I would LOVE to see Milkdrop ported to 64 bits.
That's the only thing I missed when I moved to VDJ 2021...
---
Inviato Sun 26 Jul 20 @ 9:40 am