Hardware Manuals
Advanced Audio Setup
VirtualDJ is offering DVS (Digital Vinyl System) support for the Rane 64. A Timecode Plus or Pro Infinity license is required. Up to 4 Timecode Inputs are available to control any software decks via Timecode CDs or Vinyls.
All 4 Mixer Channels can accept LINE (Timecode CDs) or PHONO Sources (Timecode Vinyls) depending on the LN/PH switchers at the rear panel of the unit.
Connect your Timecode devices at the rear panel of the Rane 64 to the Inputs 1 to 4


Click on the ON buttons from the TIMECODE panels of the Default Skin (in the SCRATCH center panel) to enable the Timecode control to any of the 4 software decks.


Press PLAY on your timecode CD or Vinyl device and VirtualDJ will automatically detect your Timecode type and make the appropriate adjustments for best performance.


Open the TIMECODE tab of the VirtualDJ Settings and choose the CALIBRATE button if for any reason the signal is not detected (possibly due to reversed phase connections).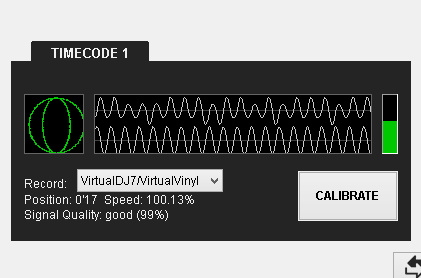 Timecode Detection

Timecode buttons - 4 Decks GUI (Scratch Panel)
If less than the 4 pre-defined Timecode Inputs need to be used, it is suggested to delete the corresponding Timecode lines from the pre-defined audio configuration and save your custom audio settings as an alternative profile.
The Rane Sixty-Four has two USB ports, allowing simultaneous connection of two computers. Each port is completely independent. It is possible to run VirtualDJ on one computer and any other DJ-software on the other, Mac or PC.
How to:


Connect the 2nd computer to the unused USB port on the Sixty-Four.

Switch the Input Source on a non-playing mixer channel to the USB source of the 2nd computer.

Play a track on this deck and mix it when ready – you ll now have audio from both computers during the mix.

Fade out the audio playing from the 1st computer to the audio playing from the 2nd one.

When only audio from the 2nd computer is left in the mix, remove the first computer.

Assign the Input Source for the remaining free mixer channel to the 2nd computer and keep mixing.

The Rane Sixty-Four has a
dedicated Input to record
your Main Mix (default setting) or the Microphone Inputs alone. VirtualDJ has pre-configured this input for recording, thus no special setting is required in order to record your mix (including analogue sources and Microphone).
Simply make sure the
Main Mix
is selected in the Rane Sixty-Four Audio Driver control panel for the
USB 11-12
Record Input and use the REC or BSCAST buttons from the MASTER center panel of the VirtualDJ GUI.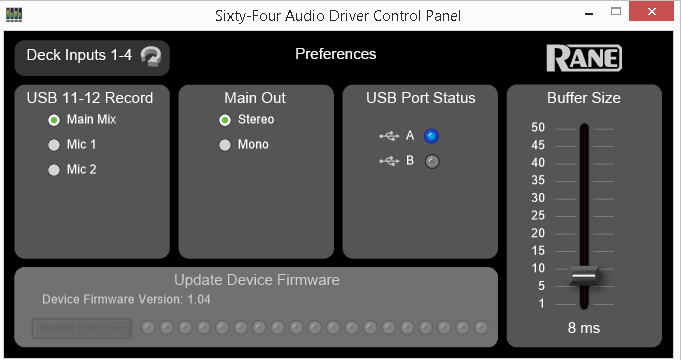 Record Selection – Rane Control Panel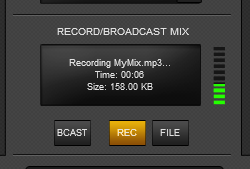 Record section – MASTER GUI panel
---
For further Technical features and specifications, visit
Rane Sixty-Four

Product's Page
---

Hardware Integration Department
2016 - ATOMIX PRODUCTIONS
Reproduction of this manual in full or in part without written permission from Atomix Productions is prohibited.